The Museum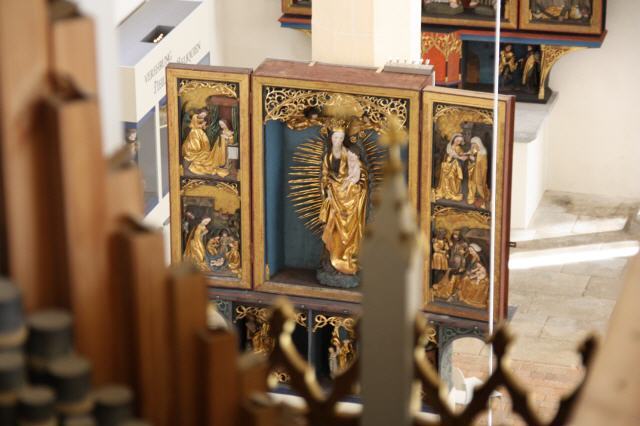 In 2011 the City of Kamenz and the Evangelical Lutheran Church Community opened the Museum of Sacred Art. Being still consecrated the gothic church functions as a museum that puts the city's artistic highlights from 1400 to 1700 on display. The precious collection of the Museum is dedicated to the mediaeval art of the Franciscans and to the art of the reformation period. In particular the ensemble of five late gothic altars, all fabricated between 1500 and 1520, is a unique example of the art of the Middle Ages and the Renaissance. The altars belonged to the original property of the former monastery and have remained unified until today.

Showcases display many highlights. For example, a precious reliquary tale of 1400, the so called "Bornkindl" (Jesus Child) from the time of Martin Luther or the picture pair "Law and Grace" painted by Wolfgang Krodel, a Cranach pupil of 1542. The Museum of Sacred Art is an important station on Via Sacra, a tourist route that connects unique monuments and art treasures in Upper Lusatia, Lower Silesia and Northern Bohemia.

The municipal museum regularly organizes special exhibitions on cultural-historical themes as well as on contemporary art. Thus, it offers artists a unique place. For just as the mediaeval objects are aroused by contemporary images and concepts, the religious environment can also enrich contemporary art. In 2014 the Museum of Sacred Art was honored with the "First Prize of the Foundation for the Preservation of Church Architectural Monuments in Germany".

Thematic tours and an extensive didactic program for school groups and young guests make the visit to the Museum of Sacred Art an unforgettable experience.
Visiting
Getting here
Klosterkirche und Sakralmuseum St. Annen
Schulplatz 5
01917 Kamenz - Germany
phone: 03578 - 379 205

Opening hours
November 1. – March 31., Monday to Friday: 10:00 – 18:00
Saturday, Sunday, public holidays: 11:00 – 16:00

Admission
Adult: 3 €
Concession holders: 1,50 €